INDIA RIVERS WEEK 2023
completing a decade in the service of India's rivers
The India Rivers Week conferences started in November 2014. Join us in commemorating a decade of dedicated service to India's rivers at India Rivers Week 2023.
This year's conference will feature a series of engaging dialogues that reflect on the past ten years of our work, focus on the challenges of Riverfront Development Projects in India, and introduce innovative perspectives on riverhood and river commons in collaboration with Wageningen University & Research (WUR).
These discussions will take place in a hybrid format (in-person and online).
For specific dates and detailed information, please refer to the poster below.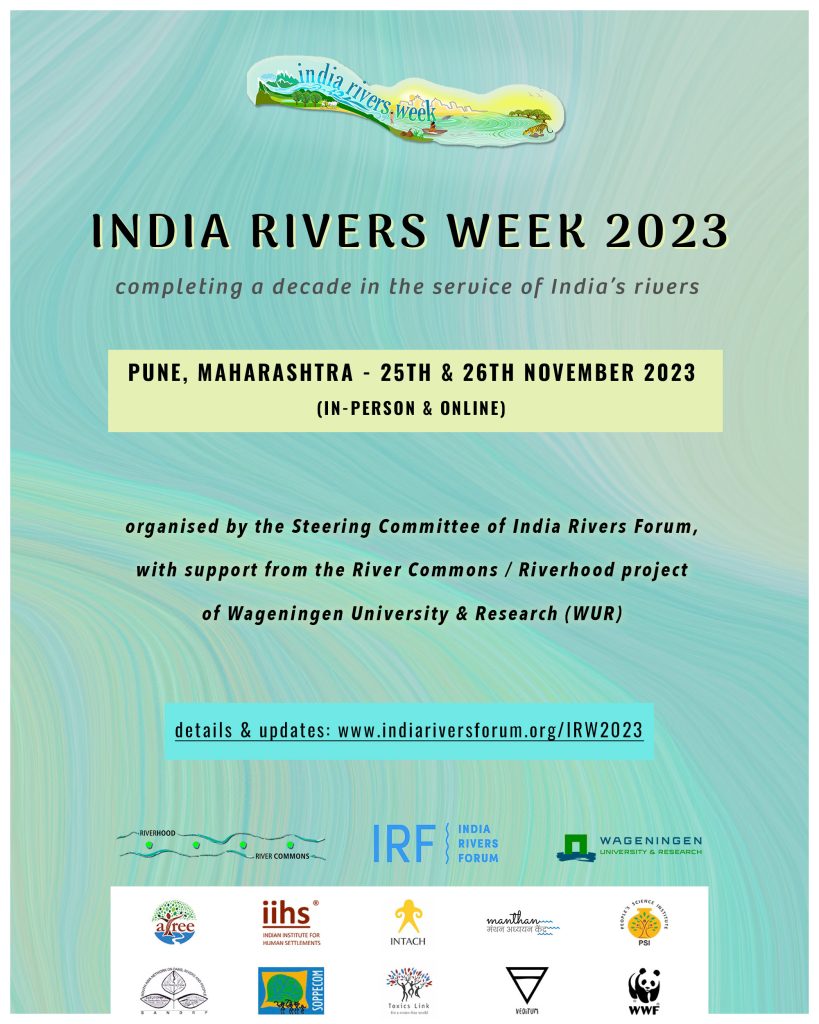 The India Rivers Week 2023 programme is conceptualized and executed by the Steering Committee of India Rivers Forum (IRF), along with additional support from the River Commons / Riverhood project at Wageningen University & Research (WUR)
To express interest in participating in the conference in-person or online, please fill the form below and we will reach out to you.
Events and discussions at this year's conference
Remembering Shri Manoj Misra
One of the founding architects of India Rivers Week and subsequently India Rivers Forum, Shri Manoj Misra passed away in June 2023. We will be celebrating his memory, and launching an archive of his work.
Presentations Commemorating a Decade of India Rivers Week
Explore a decade's worth of insights and achievements within the India Rivers Week and India Rivers Forum realm. Listen to our past awardees and participants.
Panel Discussion with Diverse Stakeholders
Engage in panel discussions featuring representatives from various sectors, including government, law-judiciary, civil society, media, academy-science, and user groups.
Discover New Concepts: Riverhood and River Commons
Gain valuable insights from experts at Wageningen University as they introduce groundbreaking concepts of Riverhood and River Commons.
Field Visit: Pune RiverFront Development Project
Embark on a field visit to gain firsthand insights into the proposed Pune River Front Development Project.
Award Ceremony for Bhagirath Prayas Samman Award & Anupam Mishra Memorial Medal
Honouring the work of unsung heroes working towards the conservation and protection of India's rivers.
At the culmination of this exercise, our aim is to showcase the significant contributions made over the past ten years by India Rivers Forum.
We hope to build a fresh and holistic perspective on counter mapping exercises, drawing from invaluable insights garnered from the Riverhood and River Commons projects conducted by Wageningen University. This will provide us with new paradigms and understandings that will shape our vision for the future.
As riverfront development projects emerge as pivotal interventions for Indian rivers, we are committed to building a comprehensive understanding. Join us as we delve into the ongoing issues associated with riverfront development in Pune, and share experiences from various riverfront development projects across India.
Session 1 : Overview of Indian Inland Waterways
Session 2 : Viability of Indian Inland Waterways
Session 3 : Impacts of Indian Inland Waterways
Session 4 : Governance of Indian Inland Waterways
Session 5 : Awards + discussion
Indian Inland Waterways: Bane or Boon?
Bhagirath Prayaas Samman &

Anupam Mishra Memorial Medal
Apart from the dialogues, India Rivers Forum also attempts to recognise unsung heroes – individuals and organisations who have done exemplary work towards the conservation and celebration of rivers.
Applications for India Rivers Week 2023 are now closed. This section will be updated after winners for this year are announced.