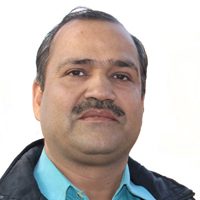 Sunil Dudey
Brief Profile :
Masters in Environmental Science,
Ph.D. in Science (Biodiversity & Conservation Focus),
Experience of Teaching Environmental Science at U.G. & P.G. level for 10 yrs.,
Involved in Study of River Head Water Zone (Kosi, Uttarakhand),
Member in India River Week, participated in 2014 & 2016 IRW meetings and contributed in Delhi Declaration on Rivers and the State of Rivers (Rajasthan),
As a researcher & consultant have explored River Basin, watersheds of rivers like Kosi (Uttarakhand); Chambal (including tributaries (East Banas, Gambhiri, Bedach, Ahad, Brahmini, Parvati), Katali, Wakal, Mahi etc (Rajasthan); Juari & Mhadei (Goa), Sunder (Jharkhand) etc.
List of Publications:
Joint Managing trustee, Institute for Ecology and Livelihood Action (IELA), Udaipur, Rajasthan.
Independent Consultant in Ecology, Ecosystem & Natural Resource Management.
Publications :
Reports for Institutional purpose:
– 'Area Specific People Centred Micro-plans of Ten Villages in the Upper Catchment of the Kosi River (An Effort for Revival of Kosi River in Northern Kumaon Region, Uttarakhand, with Sensitization and Capacity Building of People through Participatory Process at Grass Root Level)', for Society for Promotion of Wasteland Development, New Delhi.
– Conservation Plan of Lake Udaisagar along with Socio-Economic Survey (Wetland Conservation Udaisagar), prepared for the Wildlife Division, Dept. of Forest, Udaipur.
– 'Strengthening Various Project/Programme Activities and Institutional Capacity Building', for Badlao Foundation, Jharkhand. Expert Inputs in Ecology and Ecosystem Related Issues as well as Advisory in Enhancing Institutional Capabilities through Training and Documentation Support.
research publication related to watershed:
– 'Assessment of Suspended Sediments in Lake Udaisagar, Udaipur, Rajasthan', in Annals of the Rajasthan Geographical Association, Vol. XXXV, 2018. pp. 25-29 [ISSN No. 0975-4652].