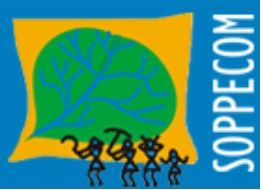 Brief Profile:
Society for Promoting Participative Ecosystem Management (SOPPECOM) is a non-profit, non-governmental organisation working in the area of Natural Resource Management (NRM) primarily in the rural areas. It is committed to the principles of sustainable and rational use of natural resources, equity and social justice in the distribution of benefits especially to the disadvantaged sections like dalits, landless, women, democratic and decentralised governance of these resources.
As an organisation committed to these principles, SOPPECOM extends its support to grassroots groups working on NRM issues through training, resource literacy, participatory planning, research and policy advocacy.
Within the broad spectrum of rural livelihood issues, water resource management, along with land, biomass and renewable energy, forms the core of SOPPECOM's concerns. Support for organising people into legal associations as user groups for participative management of eco-system resources, primarily water has been one of the key activities of SOPPECOM for more than a decade.
List of Publications: Please visit the link
http://soppecom.org/publications.htm for our entire list of publications