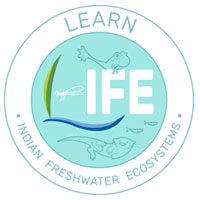 Learn - Indian Freshwater Ecosystems (L-IFE)
Brief Profile : Our primary remit is to provide education videos about all aspects of freshwater ecosystems in India. We do this by organising webinars featuring some of the brightest young talent in India of people working with freshwater ecosystems in many forms. The resulting videos are on our YouTube channel.
We have experience of rivers across the whole country, and especially with reptiles, otters and fish, plus community engagement and river conservation strategies from local to regional scale.
It is our intention to allow access to education resources for the huge numbers who, through force of circumstance or deliberate discrimination, cannot access quality education.
Organisation :
Anuja Mital (Freshwater Turtles and Tortoises of India)
Gopakumar Menon (Nityata River Otter Conservancy)
Sneha Dharwadkar (Freshwater Turtles and Tortoises of India)
Steve Lockett (Mahseer Trust)