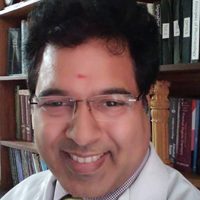 Dr. T. Velpandian
Brief Profile : His team was involved in addressing several environmental issues contributing towards ocular toxicity and pertaining to other health issues. Our main focus currently is on Endocrine Disruption Chemicals (EDCs) in water resources and their link with metabolic diseases like diabetes and thyroid disorders.
Affiliation: Professor & In-Charge
List of Publications:
Environment related
Velpandian T, Halder N, Nath M, et al. Un-segregated waste disposal: an alarming threat of antimicrobials in surface and ground water sources in Delhi. Environ Sci Pollut Res Int. 2018;25(29):29518‐29528. doi:10.1007/s11356-018-2927-9
Velpandian T, Ravi AK, Kumari SS, Biswas NR, Tewari HK, Ghose S. Protection from ultraviolet radiation by spectacle lenses available in India: a comparative study. Natl Med J India. 2005;18(5):242‐244.