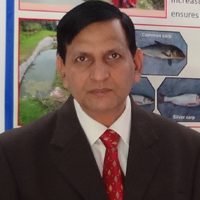 Dr. K.D.Joshi
Brief Profile : About 35 years work experience in river ecology, fish diversity, fisheries, environmental impact assessment, environmental flows, conservation, impacts of inter-river-linking on fisheries, wetland and reservoir fisheries, assessment of alien fish species, domestication of wild fish, fisheries of Himalayan region, fish breeding, extension.
Affiliation: Principal Scientist
ICAR-National Bureau of Fish Genetic Resources, Lucknow, U.P.
List of Publications:
More than 200 research papers, articles, bulletins, book chapters in different national and international journals/ books.