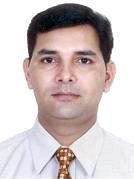 Anand A. Jha
Brief Profile: In 2000, Ministry of Environment, Forests & Climate Change (MoEF&CC) designated CMS an ENVIS Centre to facilitate information dissemination and further the cause of environment awareness and sensitization through media. The CMS Environment team set up a separate space in their campus to house documentary films, spots/ public service messages, info-mercials, quiz programmes, jingles etc. on environmental and wildlife issues. http://www.cmsenvis.nic.in
List of Publications:
Green Voice (July-September, 2016) focus on River of India
http://www.cmsenvis.nic.in/qnewsletter/July_to_Sep%202016_River.pdf
Affiliation: I attended IRW-2016 that completely changed my thought process, I learnt a lot from eminent speakers who came from all corners of nation.
Individuals within the organisation: Aware masses related to water pollution and river health.